QMStorm has dedicated modules that allow you to manage specific areas in Quality Management System. Each of the modules can function independently, they can also be selected in accordance with the needs of the organization and combined into a coherently operating structure.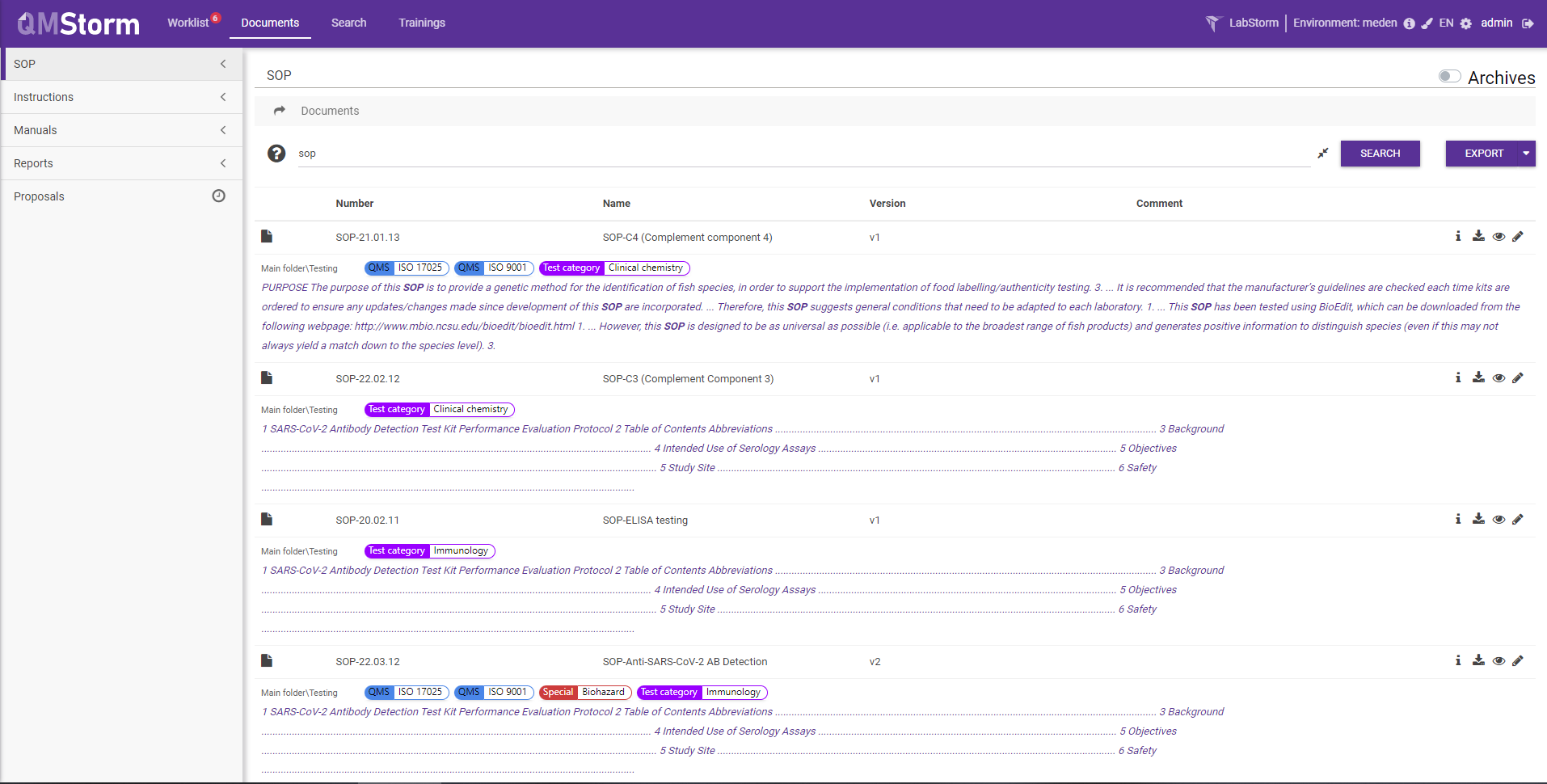 Documents
The Documents module allows you to create, edit, manage and store and archive documentation necessary to support the QMS. Documents are stored securely, and the system gives you the ability to assign access to documents only to authorized users or groups. The documentation is stored and processed in a systematic and controlled manner, subjected to procedures, and each change in the document is reported. This makes it clear who has read the document and who has made changes to it. This module allows you to define your own documentational processes based on predefined steps in the system, without the involvement of programmers.
Documents entered into the system can be marked with keywords as well as linked to other documents or assigned to users or groups. Advanced document search allows you to find a document by tag, category, title, content as well assigned user or date range.
Storage of documentation in electronic form - in any format (jpg, pdf, doc, xsl)
Configurable processes for adding and editing documents
User-defined document structure
Management of user permissions
Personal task list
Notifications and reminders - e.g. about the new version of the document, pending tasks (in the system and by e-mail)
Audit of document version history (possibility to generate a report)
The ability to add tags to documents
Advanced search options (by name, number, content, tags and others document attributes). Ability to export search results
Creating links and relationships between documents
Reports
Archiving outdated documents
Automatic backup procedure
Electronic signature
Document security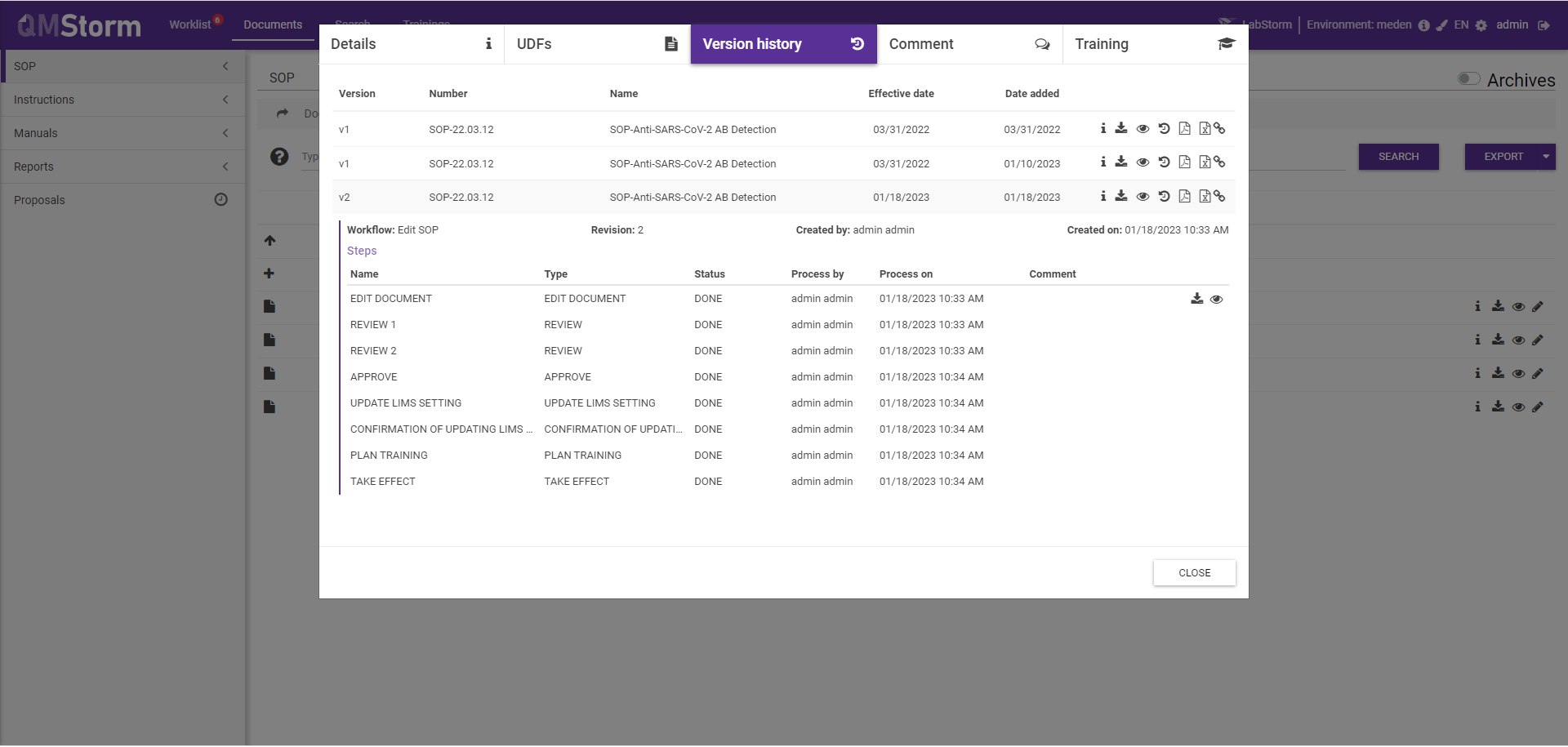 Audits
The Audits module gives you the ability to quickly and efficiently create and plan audits. Thanks to the calendar function you can schedule audits and the system will automatically send proper reminders. The module allows you to manage auditor competences, create checklists, plan and schedule audits, create final report and plan corrective actions. Audits module can be integrated with CAPA module, which significantly increases its functionality.
Planning and scheduling (creating annual and long-term plans)
Managing the process from start to finish of the audit
Preparing and initiating an audit (audit program, creating checklists)
Creating checklist libraries
Assigning a risk level
CAPA integration
Notifications and reminders
Managing user permissions
Audit report
Electronic signature
Data security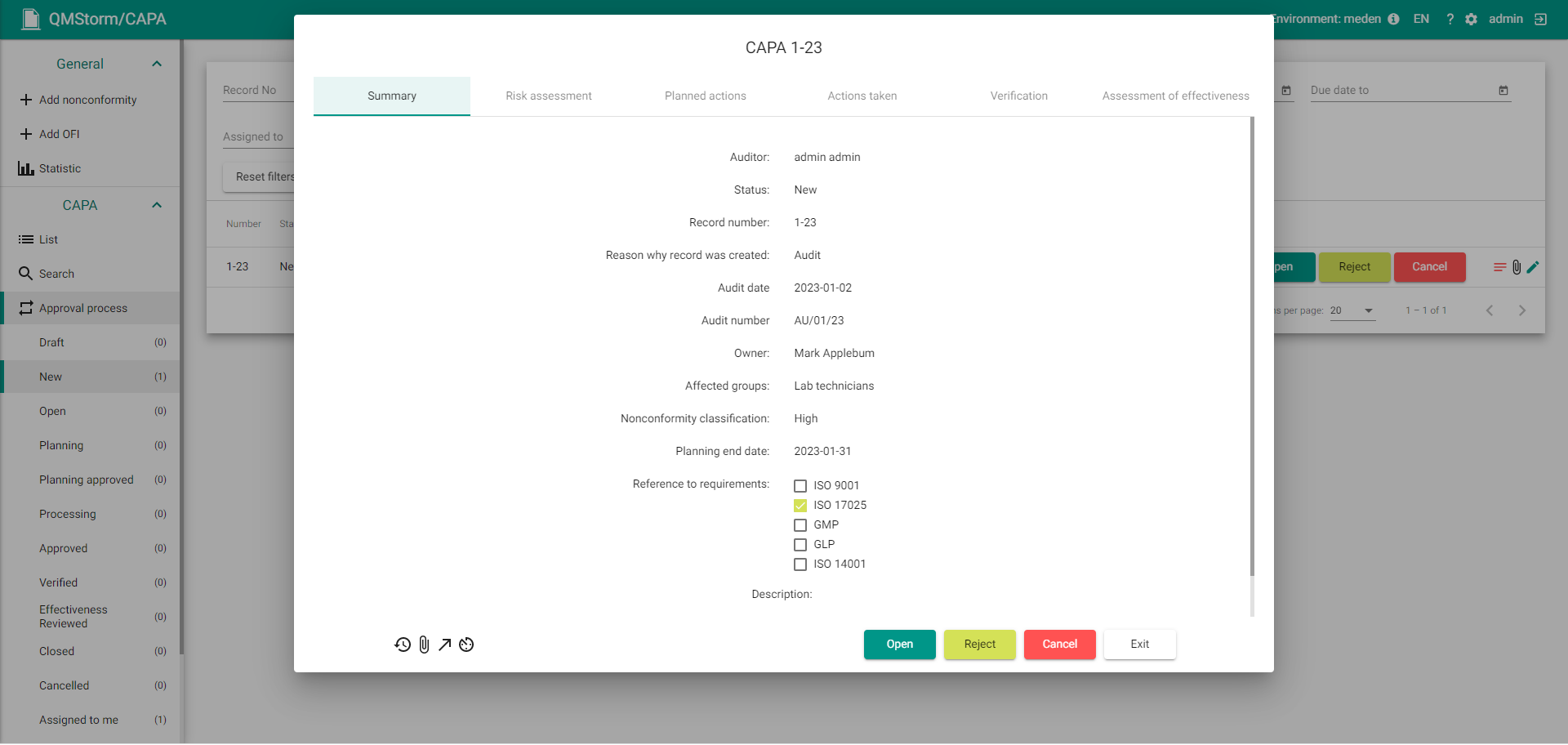 Risk management
The risk management module enables systematic identification and risk analysis according to ISO 9001. The module allows you to create risk registers in a simple and understandable way, which can then be linked to other modules and their individual elements, i.e documents, processes or CAPA. The module also allows you to enter opportunities analysis into the system and modifications of activities carried out on its basis.
Risk management module functionality:
Process monitoring
Register of risks and opportunities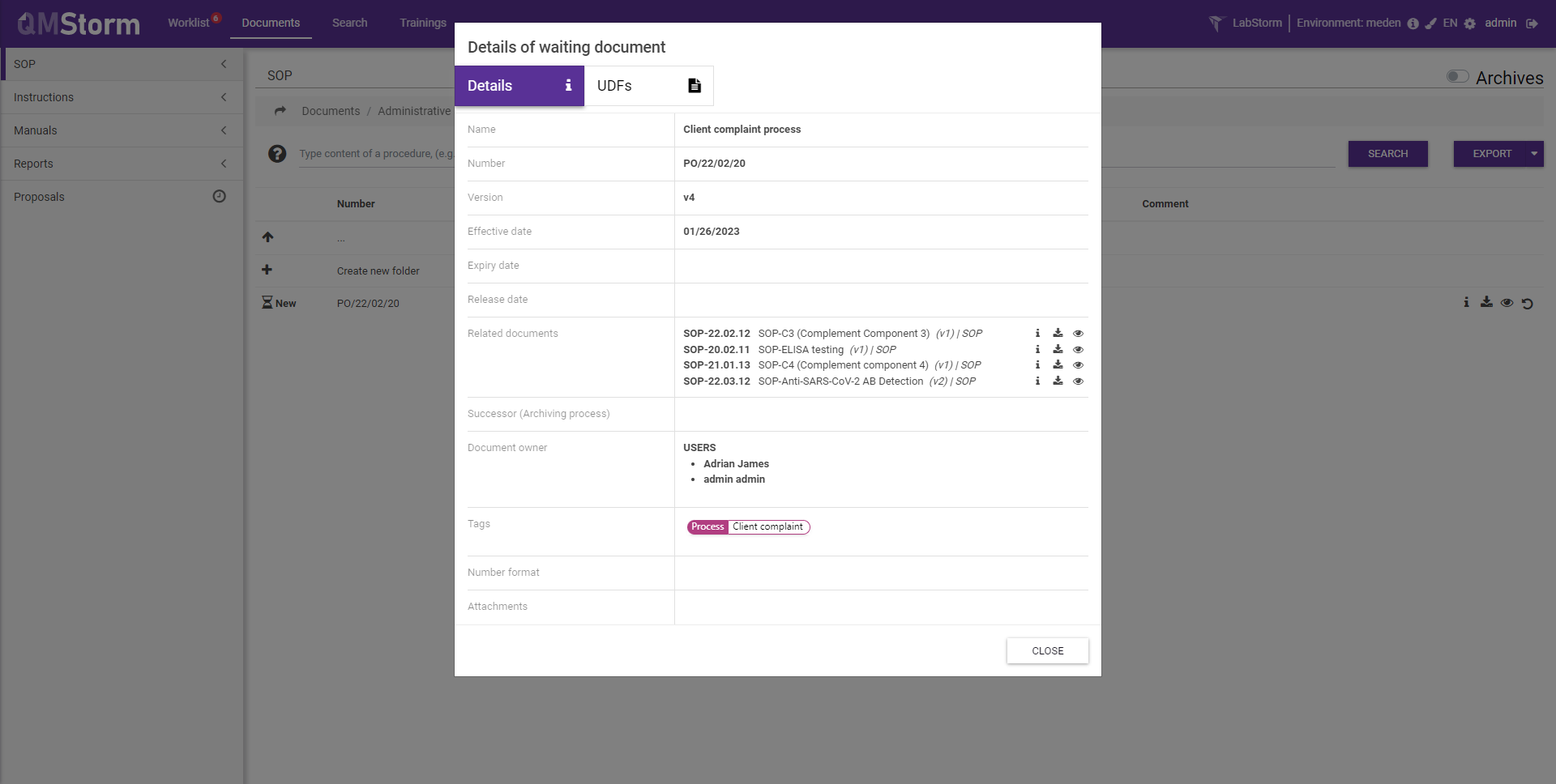 Processes
The module enables process management in accordance with the ISO 9001 standard. It consists of on systematized view of process cards with which you can associate procedures, roles, permissions and responsibilities. Indicators and measures can be assigned to each process card. Clear layout allows you to intuitively manage, monitor and analyze processes related non-compliances. The module can be linked to the Risk Management, Audits or Documents module.
The ability to enter a process card
Assigning a set of documents and procedures to a given process
Periodic process reviews
Introducing and evaluating indicators and metrics
Notifications (e.g. about changes in the process, updates of documents assigned to the process)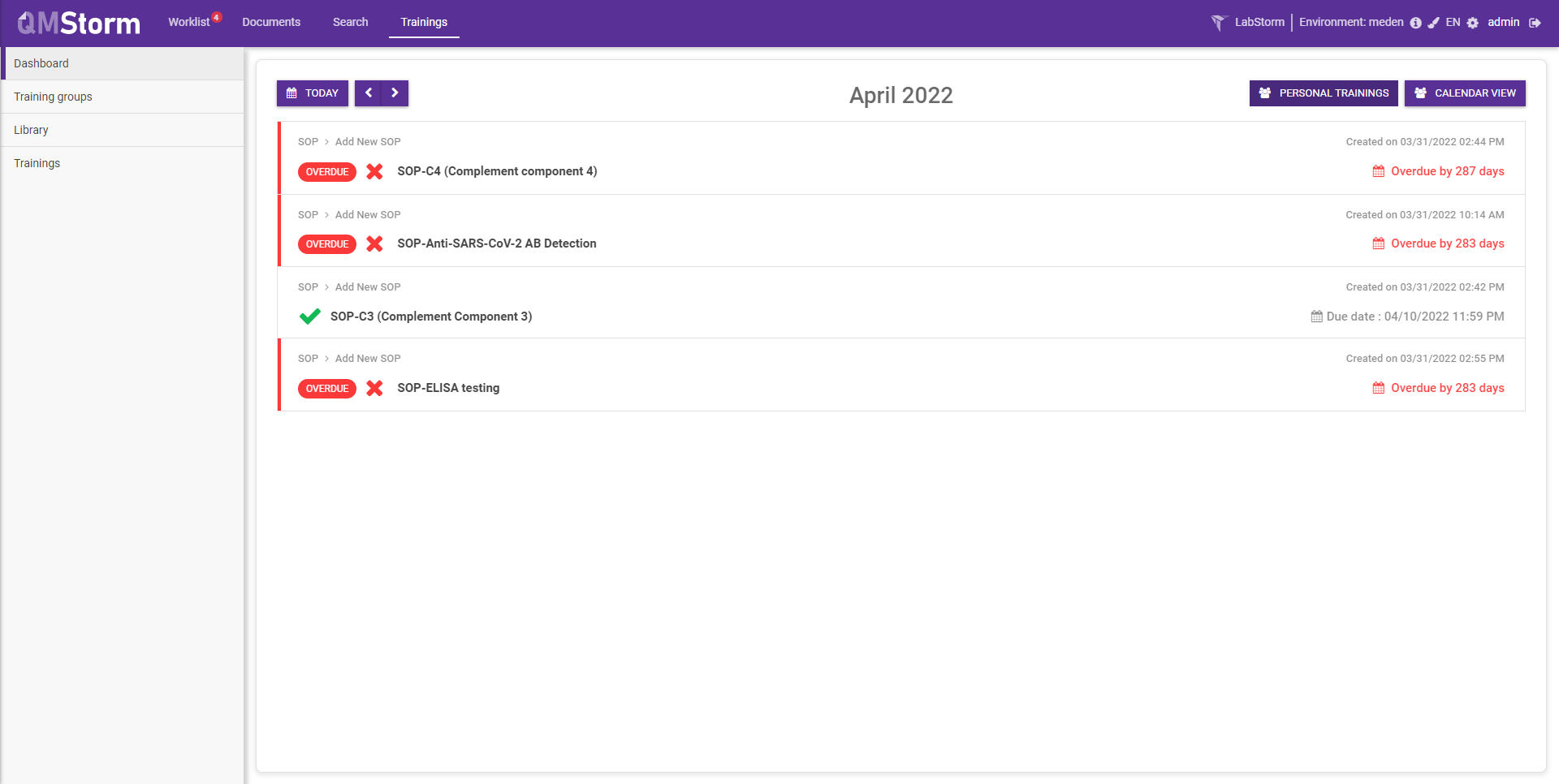 Training
The module enables quick and effective creation of training for employees, both online and on-site. As part of the module, the user can send training materials in the form of text, audio, video or image files. The training can be assigned to a given one user or group of users, with a set start and end date.
The module allows you to check the skills of training participants through tests, surveys, etc., as well as to track the training history and results of a given employee. Integration of Training module with other system, e.g. LIMS, production or HR systems provides a full picture of employee competences. As a result, it optimizes the process of assigning certain tasks to employees.
This way, the module can be used to determine whether an employee has permissions and skill, e.g. to work with a given device or to carry out tests based on a specific procedure.
Training assignment
Assignment of retraining - e.g. after CAPA
Managing user permissions (related to processing, editing and viewing training)
Assign training to any person or group of people
Full history of changes (access to the full history of changes made by a given user in system, access to the full history of changes for the selected training)
Ability to monitor the progress of training
Reports
Notifications and reminders (e.g. about new training, about the due date of the training)
Reminders from the system administrator to users, e.g. about waiting training
Electronic signature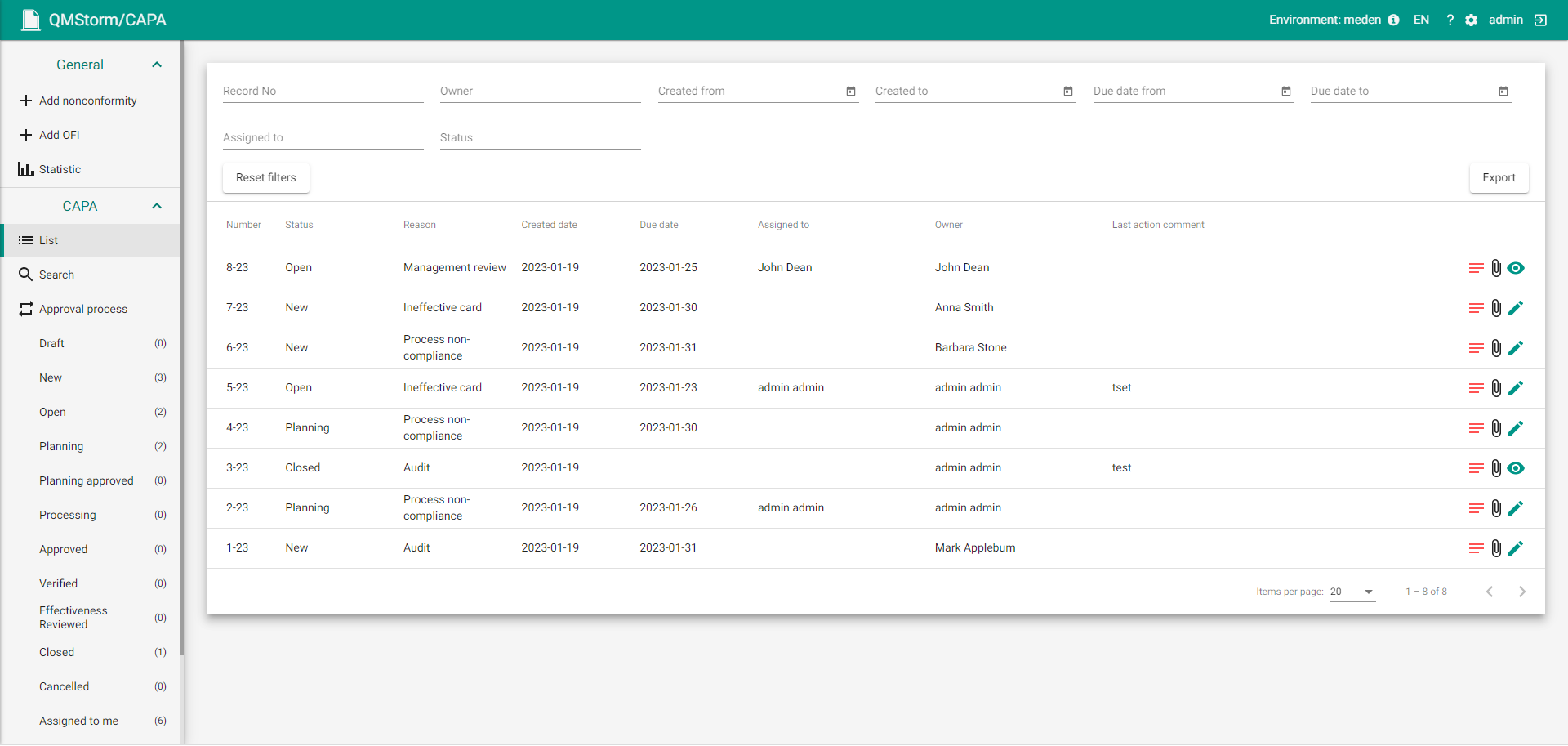 CAPA
The CAPA module allows for transparent and effective management of corrective and preventive actions. Non-compliances can be reported directly by the system users (e.g. employees of the production hall), they can also be related to audits or introduced documentation (e.g. customer complaint). The module allows you to collect all data related to non-compliances in one place, which greatly facilitates their monitoring and analysis, as well as tracking what corrective and preventive actions have been applied, whether they have had any effect and what are the quality trends in the company, e.g. if the problem reoccurs.
Managing user permissions (related to processing, editing and viewing of corrective and preventive actions)
Assign non-compliance to any person or group
Constant supervision over the CAPA processes
Classification of nonconformities
Process audit (possibility to generate reports)
Advanced Search
Reports
Notifications and reminders
Archiving outdated documents
Automatic backup procedure
Electronic signature
Data security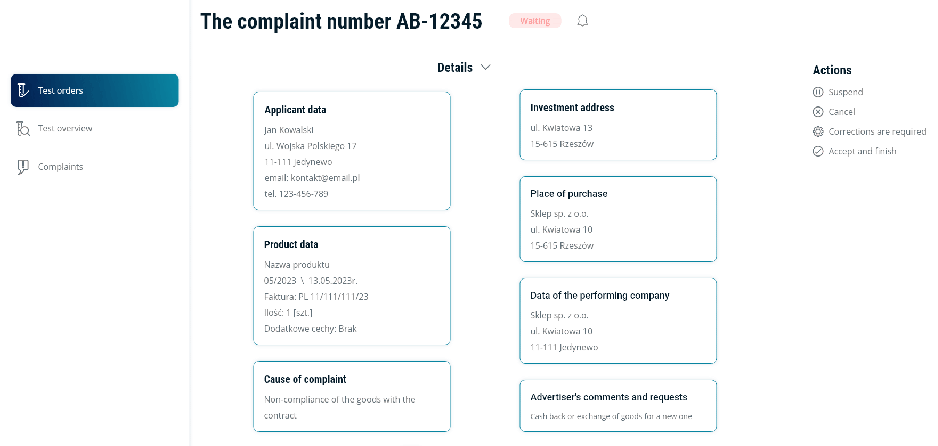 Complaints
The Complaints module includes an external portal available on the website for receiving complaints from customers and an internal system for processing such notifications. It allows for a complete handling of complaints, from its registration through consideration, to taking final action. The module can be integrated with the CAPA Module, which enables an appropriate analysis of the causes of the problem, implementation of preventive actions, and as a result leads to the reduction of complaints of a similar nature in the future.
Filing a complaint by any person (unlogged user)
Reporting a complaint/order for research by a business client (logged in user)
Access to the history of requests (logged in user)
Processing requests in accordance with the established process
Integration with CAPA
Generating reports
Access to historical reports/analyses